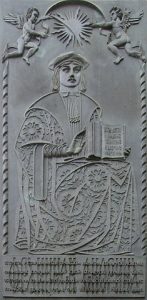 International conference
FROM PRINT TO INTERNET:
LITERATURE, CULTURE, MEDIA IN CENTRAL AND EASTERN EUROPE
500 years of the first edition of The Psalter by Francysk Skaryna
25th-26th May 2017, Warsaw, Poland
organized by
Department of Intercultural Studies in Central and Eastern Europe
University of Warsaw

It has been 500 years since Francysk Skaryna, Belarusian scholar, translator and printer published in Prague his first book – The Psalter – in the Old Belarusian language. This event had a major influence on East Slavic countries, and is considered an important step in the development of culture of Central and Eastern Europe, especially in the development of printing and old Russian writing culture.
We would like to take this opportunity to discuss historical processes reflected in literature, culture and the media of Central and Eastern European countries from the anthropological perspective. We hope to encourage an inter-disciplinary conversation about the Central and Eastern European cultural heritage as well as future challenges facing societies in the region in the context of the rapid development of new technology and media.
We hope to bring together scholars working in and across various fields of the humanities and social sciences.
CONFERENCE TOPICS

Abstracts are invited in the areas mentioned in the following but non-exhaustive list:
Contribution of print to the national identity formation processes in Central and Eastern Europe
Emancipating role of the literary discourse in Central and Eastern Europe: historical and contemporary perspectives
The role of artists, intellectuals and social leaders in the development of culture, especially in the context of writing and printing practice in Central and Eastern Europe
Artistic expression of national identity (with the special emphasis on performative arts)
Transformations of literary language in Central and Eastern Europe and their cultural contexts
The past and the present of media in Central and Eastern Europe – an identity perspective
New media in countries of Central and Eastern Europe
Central and Eastern European media in the face of cyber-warfare – a word as weapon and tool of the everyday politics
IMPORTANT DATES AND ORGANIZATIONAL INFORMATION
Abstracts are welcome at: konferencja_interkulturowosc@wp.pl until: 15th April 2017 (please use the abstract submission form)
Notification of acceptance: 21st April 2017
Conference fee: 400 PLN (or 100 EUR)
Deadline for payment of the conference fee: 10th May 2017 (the bank account number will be send in the notification of acceptance)
Language of the conference: Polish, English, East and West Slavic languages
The conference paper length: 15 minutes
Conference fee includes: the conference proceedings and refreshment breaks (please note that the organizers do not provide accommodation). Organizational committee reserves the right to select abstracts as well as papers considered for publication.
Website of the conference: www.ksi.uw.edu.pl/research/conferences/
ORGANIZATIONAL COMMITTEE
Prof. dr hab. Aleksander Wirpsza
dr hab. Joanna Getka
dr hab. Jerzy Grzybowski
dr Marta Brzezińska-Pająk
dr Rostysław Kramar
dr Marcin Niemojewski
mgr Kamil Dwornik